For an organization generally layoff is never easy – especially if they are good workers.
We predicted; a U.S recession in Q2 , mortgage interest rates, and the effect on the Real Estate Market.
Employees may be laid off when companies aim to cut costs, due to a decline in demand for their products or services, seasonal closure, or during an economic downturn. When laid off, employees in the U.S lose all wages and company benefits but qualify for unemployment insurance or compensation. Business Consulting is worth the money if: 1) it leads to business growth, 2) improves business relationships, and 3) increases efficiency in helping organizations to improve performance.
Unfortunately, for the companies which layoff, the decision maker (the management team) now must determine the hardest decision ever of who they must let go and who they would keep during this process of saving cost for the company. In preparation for this the management team must come together in addressing to those employees why they reach the decision, provide solid explanation and have concrete facts to support those decisions. Some employees have no ethics – granted this can be said about some companies too but take a look at the woke-washing and the business practices being implemented with unrealistic expectations. Welcome to Pre-Musk Twitter, Inc.
Twitter is not the only company with layoffs: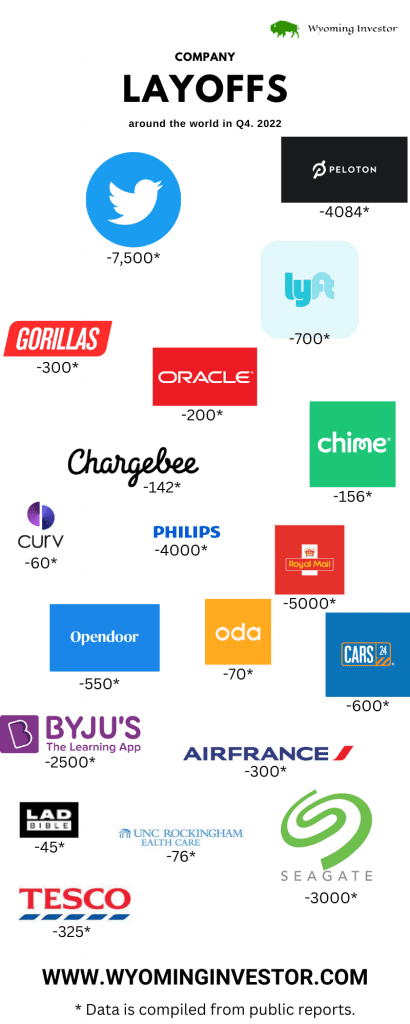 Ethical Business: Capitalist Not Socialist
There is no guidance or direct way to solve an ethical dilemma and making the right ethical decision, like the situation Twitter is facing. However what Musk needed to do for solving Twitters' dilemma was take some real step as guideline for evaluating and determining the ethical decision. That decision must be logical, based on facts and should be accepted by moral principles. In other words, if moral decision or conclusion is defensible, then it must be supported by defensible moral principles, together with relevant facts. (Shaw et al, 2009, p.28).
Elon Musk, CEO of Twitter done exactly that. Ethical Business. Many would disagree…. the reason being is they lost their employment. But the ethical dilemma from the employees is the facts. Elon Musk had to make a moral decision to determine the facts of the situation and the fact is Twitter, Inc has lost money ( Twitter is currently losing $3m a day, October 17th 2022) for eight of the past ten years and, like other social media companies, faces a decline in digital advertising amid a slowing economy.
What Is The Difference Between Being Laid Off – VS – Getting Fired?
The key difference between being laid off vs. getting fired is that a layoff is the financial decision of an employer while a firing occurs because of the employee's fault. Most workers get laid off because the company is trying to cut costs, increase profitability, reduce the staff, or due to mergers and acquisitions
If you want to bring in more attention towards your business, finding the right business strategy is crucial. However, that also means you need to optimize your offline and online presence as that is where your visibility and first impression comes from, while also finding ways to stand out in front of competitors. At Wyoming Investor we can help achieve your goal! Reach out to us to discuss your business.